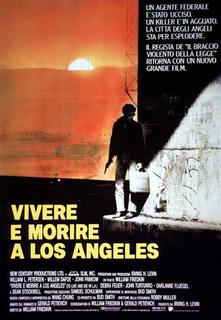 To Live and Die in L.A.
USA, 1985
Genere: Noir
durata 114'
Regia di William Friedkin
Con William L. Petersen, Willem Dafoe, John Pankow, John Turturro, Debra Feuer, Darlanne Fluegel, Dean Stockwell, Steve James.
Chance e Vukovich sono due agenti federali sulle tracce di un falsario di nome Eric Masters. Chance, che tra l'altro vuole vendicare un collega ucciso proprio da Masters, non esita a uscire dai binari della legalità pur di incastrarlo. Alla fine ci riesce, ma a un prezzo altissimo...
Nome versione:4bro by £egend63Fonte video:BdFonte audio:BdSub Forced:SiScreenshots
Info tecniche
Show / Hide text
Links download Estrarre con Winrar5 Easybytez
You must register before you can view this text. Please
register
and
Login
REGISTRATI O RINNOVA IL TUO PREMIUM CLICCANDO IL BANNER QUI SOTTO
Teşekkür: 1
Genera Bitcoin velocemente gratis!