Adobe Photoshop Lightroom Classic CC 2019 v8.2
Multilingual - ITA

Elabora e organizza le tue foto con l'app ottimizzata per il desktop e per rendere i tuoi scatti migliori, resi ancora più belli. Non sempre le foto rendono giustizia alla scena impressa nei tuoi ricordi. Ma con Lightroom Classi CC, hai a disposizione tutti gli strumenti di editing necessari per valorizzare al meglio le tue fotografie sul desktop. Puoi intensificare i colori, rendere vivaci gli scatti spenti, rimuovere oggetti fuorvianti e raddrizzare le foto storte.
Inoltre, l'ultima versione offre prestazioni migliorate che ti consentono di lavorare con la massima rapidità.
Con un sistema dalle prestazioni migliorate, Lightroom Classic CC ti consente di importare foto, generare anteprime e passare tra le modalità Libreria e Sviluppo in tempi record.
L'opzione Deformazione bordi estende i bordi di un'unione panorama per consentirti di usare l'immagine completa senza perdere dettagli importanti.
La funzione Unione HDR consente di creare facilmente immagini naturali o surreali combinando più scatti realizzati con esposizioni diverse in un'unica immagine con un'ampia gamma dinamica (HDR, High Dynamic Range).
Requisiti:
- Processore Intel® Pentium® 4 o AMD Athlon® 64
- Sistema operativo Windows® 7, Windows 8 e Windows 8.1 & 10
- 1 GB di memoria
- 200 MB di spazio disponibile su disco per l'installazione
- Schermo con risoluzione di 1280x800 con scheda video a 16 bit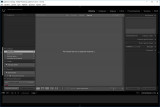 Lingua: Multilingual Italianoo compreso
Dimensioni: 1.2 GB
Download LinksEasybytez - Nitroflare
You must register before you can view this text. Please
register
and
Login
You must register before you can view this text. Please
register
and
Login
Password:
programmi
Teşekkür: 0
Genera Bitcoin velocemente gratis!