Autodesk Infraworks 2020
Lingua: ITALIANO

Reimmagine dell'infrastruttura con InfraWorks. Il software di progettazione dell'infrastruttura InfraWorks® supporta i processi BIM (Building Information Modeling). Concettualizzare, ottimizzare e visualizzare progetti infrastrutturali. Utilizzate InfraWorks per generare modelli 3D per la creazione di progetti e proposte di infrastrutture nel contesto dell'ambiente finale.
Utilizza i dati del mondo reale per creare un modello di contesto reale
- Aggrega grandi quantità di dati per creare modelli di progettazione intelligenti nel contesto del mondo reale.
- Integrare perfettamente la progettazione con i dati geospaziali per generare un modello di informazioni di progetto più completo.
- Esplora i progetti concettuali nel contesto utilizzando strumenti che integrano i principi di ingegneria.
Ottimizza il design e comunica con visualizzazioni coinvolgenti
- Valutare alternative di progettazione basate su proposte realistiche.
- Utilizza gli strumenti di analisi e simulazione per esplorare aspetti importanti del tuo progetto.
- Genera esperienze visive coinvolgenti e coinvolgenti per comunicare l'intento progettuale.
Guarda come InfraWorks funziona con altri software Autodesk
Stabilire le condizioni esistenti del sito ed estrarre funzionalità lineari per accelerare la progettazione
Genera un modello di contesto reale che può essere utilizzato nella progettazione dettagliata
Analisi e progettazione di ponti integrati
Crea esperienze visive coinvolgenti e coinvolgenti per comunicare meglio l'intento progettuale
Requisiti:
Microsoft® Windows® 10 64-bit Enterprise or Pro
Windows® 8.1 64-bit Professional or Enterprise
Windows® 7 64-bit Professional, Ultimate, or Enterprise edition (SP1)
CPU Type Dual-core Intel® Core™2 or equivalent AMD processor (Quad-core Intel® Core™ i7, 6-core Intel® Xeon®, or better processor highly recommended); to use the ray traced rendering functionality, CPU must support SSE 4.1
8 GB RAM minimum (16+ GB recommended)
Display Resolution 1,280 x 720 or greater (1,440 x 900+ recommended)
Display Card Any DirectX® 10.1 capable graphics card with 2 GB (or more) graphics memory, supporting 8x Antialiasing (8x AA), such as NVIDIA Quadro® 5000 or 6000 for desktops and NVIDIA Quadro 2000M or GeForce® GT 650M for laptops; (Any DirectX 10.1 capable graphics card with 1 GB graphics memory supporting 2x antialiasing (2x AA) minimum)
Disk Space 16 GB
Pointing Device Microsoft-compliant mouse
Media DVD or download file
Browser Google Chrome™ (latest), or Firefox® (latest)
Internet Internet connection for full online help and learning materials accessibility and Autodesk® Cloud services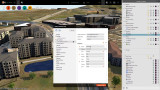 Size: 3.9 GB
Lingua: ITALIANO (Multilingual)
Architettura: 64 Bit
Download LinksEasybytez - Rapidgator - Nitroflare
Warning! You are not allowed to view this text.
Warning! You are not allowed to view this text.
Password:
programmi
Utenti che hanno ringraziato: 0
Genera Bitcoin velocemente gratis!